What the heck IS it??? Fairy? Bug? Spirit?
by Hilary Wood
(Ridgecrest, CA)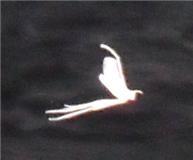 Blown up White Thing
Hello, this photo was taken on July 3rd using a Samsung digital camera at between 7:45 and 8:00 pm (the sun had already set behind the mountains).

The location was my campsite on the Kern River in Kernville, CA. The weather was clear, hot and not windy. I was simply taking a picture of the river from my campsite. After I downloaded the pictures, I spotted the white thing either flying or hovering above the river.

I blew it up and you can clearly see it. I just donít know what it is. I absolutely did nothing artificial to put this image on my picture. Iím nearly 60 yrs. old and wouldnít know how to do it anyway.

Thank you.

Hilary S. Wood

Join in and write your own page! It's easy to do. How?
Simply click here to return to Ghost Pictures.