Haunted Real Estate
"A man who limits his interests, limits his life." - Vincent Price (1911-1993)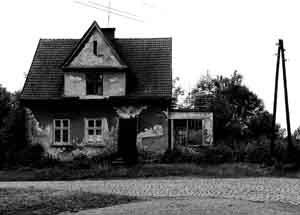 Hello, folks. My name is Roland
and I am in charge of our
Haunted Real Estate
office. We are always on the look out for haunted houses, hotels, land, restaurants . . . anything haunted to list for sale.
"Who in their right mind would want to buy haunted real estate?" you might wonder. I admit the thought may seem absurd to most people.
But there are those who shop for haunted property to purchase, seeking out more spirited lodgings. Among those with this outlook are writers, actors and other artists who seek fodder for their imaginations, inciting them to greater and greater heights of creativity. Then there are others who think having a ghost is interesting. Some people just don't want to be alone!
As portrayed in the notable Hollywood production The Amityville Horror, it would certainly seem that promoting one's house as having ghosts would have devastating effects on one's property values. The house with a checkered past that has been on the market for years, the beautiful estate being offered at a fraction of its value, and the long abandoned building all broadcast distress!, and sellers should expect to provide discounts to any buyers even remotely interested in a purchase.
However, there are realtors who believe in and have profited from the existence of a resident phantom. These creative agents believe that ghosts sell real estate and one can actually increase a property's value by having such a presence. Some realtors specialize in speculative real estate. They seek out listings and market them as having a ghost. But not all houses are marketed so creatively.
How do you know if the house you are about to purchase has a resident ghostie real estate? In the U.S., many states have laws regarding the disclosure of such issues to the buyer. But not all states have such laws, and there aren't many ghost inspection services available.

If you do happen to purchase a haunted house and need a clearing to eliminate a dark presence, please check out Moonslipper.com. They specialize in this kind of thing.
Good news! Moonslipper.com has just submitted some do-it-yourself tips. If you need to handle a ghost in your home, click here.

We also now have a Ghost Hunter page that highlights paranormal investigators. Perhaps one of these fine professionals can assist you.

Advertise Your Home Sale Here
If your property is haunted, use that to set it apart! Our visitors are very interested in the paranormal and due to requests for real haunted property listings, we've set up this system.

The fee for listing on our site is $10.00 per month, with a 3 month minimum. We accept credit cards through Paypal.

Use the following form to describe your property, upload a photo and give us your contact information. Once payment is received, we will make your listing live, and if you wish, add more photos to your listing!
Real Estate Listings
Look at these videos and see what you think. Feel free to comment and put your rating on them!
Vermont Lake Champlain Haunted 1850's Farmhouse






Bedrooms: 5 Bathrooms: 2 Floors:3.0
Square Footage: 2300
Year Built: 1850
School District: Grand Isle
Garage Size:2.5
Lot Size:1 Acre(s)
Amenities:...
Haunted Real Estate Listings
These are properties, known to be haunted, that are looking for new owners. Browse our inventory and then let us know which you want more information on.
Home Page
Haunted Real Estate Top
New!

Comments

Have your say about what you just read! Leave me a comment in the box below.