Welcome to the Ghost Games page! Sure, many of you are serious paranormal hobbyists who only want pure paranormal, but
this page is for those who want scares and to have fun.
I strive to provide you with hours of spooky material to ponder and scrutinize, but I know that after spending hours on those spooky pages, you need a break! So
here are some spooky games you can play while you're here on the site.
While the play is free, should you choose to buy a game, the proceeds go to help suppor this site.
My favorite kind of ghost games are search and find or role playing games. I like brain teasers and puzzles, too. But there are also some shooting and action features, too. I look for new ones and will put them here as soon as they are released. So now there's no reason to be bored. Hours of ghost games are right here for you.
Games, games, games, ghost games, and more ghost games! There are a lot of ghost games here and more to come. (More games have just been added. Click here to find another ghost game.) Scary games, horror games, spooky ones, freaky ones and gross ones, too. Scroll down the list, pick one and check it out. Be sure to bookmark this ghost games page so you can find your way back!
Oh! One more thing: Having a Halloween party or sleepover? Want some fun, spooky entertainment? Make your more party more fun with games you can download. Whether you need games for kids, teens or adults, these are entertaining games you can play in a group at parties. Check out these Halloween Party Games here.
---
Haunted Hotel - I really enjoy this ghost games. You start out as a traveller who has a car accident along the road, find your way to a nearby hotel and start exploring.
As you move from room to room, you find hidden objects and weird, supernatural things. Atmostpheric music plays in the background, but as you progress, you hear creaking floorboards, scurrying footsteps, low whispers and other generally creepy sounds. Each level gets progressively more difficult, of course, but the game play is pleasant and not overly stressful, like some games.
To get from level to level, you have to activate the elevator, but to do that, you have to play little mini-games to recharge the elevator. It's pretty cool. It's more than just a hidden object game, it's numerous games in one. It's overall more of a puzzle (which I love) and I find it a very fun, addictive game to play. It's hard to stop playing. Highly recommended!
---
Haunted Hotel II: Believe the Lies - If you love Haunted Hotel, you'll surely love Part II. I was impressed by the super high quality graphics and great music in the background, which pulls it up a notch from the previous version. The written clues are much less "rambly" and build more suspense than before. And here, instead of playing against a clock, there are many more objects to find in each puzzle.
What I enjoyed most about this and the Haunted Hotel Part I ghost games is that it really challenges your mind without making you feel nervous or hyper.
The game is mysterious and spooky, addictive and fun. It's a hidden object format (many of the games here are), so your powers of observation have to be keen. The graphics are so well done that it almost feels like you're really there, roaming around a haunted hotel.
Check it out by clicking the link above. There's a trial where you can play for free. Enjoy!
---
Redrum - So far, this has been one of the most sinister ghost games I've ever played online. It took me back to my Playstation days when I used to spend hours playing Galerians.
Rose is a little girl who is being victimized by an extremely evil doctor, who is attempting to drive her to insanity to get to her family's money. However, despite the psychiactric drugs he injects that should be inducing psychosis, Rose is relatively unfazed. Could those invisible beings she talks to be spirits and not fragments of her sanity?
This is one of the ghost games that is outright scary. It is not intended for small children or anyone who cannot tolerate horrific, bloody images. The story line is very dark and there are images of tortured spirits in each puzzle. The puzzles themselves are much more intense than the other games here. I found this game enjoyably spooky, yet disturbing as well.
Warning: Redrum is an intense psychological murder mystery intended for mature audiences.

Play this game right now, for free. If you decide you want your own copy, a portion of your purchase supports this site.
---
Mystery Case Files: Ravenhearst - Rumors surrounding the history of stately Ravenhearst Manor have circulated for decades. The recently acquired diary of Emma Ravenhearst may hold the key to unraveling the tale behind this unsettling place, yet the pages are missing. Players assume the role of Master Detective to unlock secrets held within Ravenhearst, scouring a myriad of enchanting rooms in the manor for cleverly hidden clues. Locating and assembling diary pages helps tell the story of the house and, ultimately, unlock the mystery.
---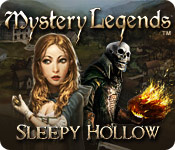 Mystery Legends: Sleepy Hollow You've heard the story, but now as part of our ghost games, enjoy the tale in a different way. Discover the secrets of Sleepy Hollow and the legendary Headless Horseman in Mystery Legends: Sleepy Hollow - a haunted hidden object game. Investigate the freakish residents and witness their fate at the hands of the Headless Horseman. Use your object hunting skills to unravel the story of famous characters like Ichabod Crane and his beloved Katrina. Mystery Legends: Sleepy Hollow will chill you to the bone!
---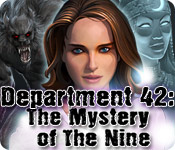 Department 42: The Mystery of the Nine - Lovers of ghost games will rave over this. Join Department 42, a secret organization devoted to the paranormal, and protect the world! Help Agent Alice Wright track down nine mysterious and evil artifacts that have gone missing. Use your Hidden Object skills to protect the planet from the nightmare that has been unleashed and restore order! Travel across the country and piece together the enigma that is Department 42 The Mystery of the Nine!
---
Midnight Mysteries: The Edgar Allan Poe Conspiracy
- Edgar Allan Poe, famed author of the poem The Raven, is spiritually bound. Could it be writers' block that has this legendary spirit hung up? When you begin the game, you find good ol' Edgar, glowing white with the stink of afterlife, gazing hauntingly at you through the screen. Please help him, he beseeches. Please, please follow the clues and help him.
Well, it's another of the spooky ghost games, and for that I liked it. The ravens are helpers that help you with clues along the way. There are lots to do, and while it is very interesting, you don't get too stumped or frustrated. It's a good way to relax at the end of the day and definitely a ghost game you should add to your collection.
---
Dr. Lynch, Grave Secrets - This is one of the ghost games that was really cool. It takes place in England, where a ghost has been sighted - A Lady in White. You're on a mission to discover if there really is a ghost or if the source of the mystery is a prankster or vandals. When you arrive, you're given a briefing and pointed in the right direction. It is up to you to put the clues together and discover the truth.
The graphics in this game are quite realistic, right down to the bugs in the grass. It reminded me a bit of Riven, if you've ever had the pleasure of playing that old game. The puzzles are challenging because the settings are so realistic. The objects really blend in.
All in all, I found this game to very interesting and quite challenging. I recommend it for those who prefer a lighter story and more difficult puzzles.
---
The Mystery of the Mary Celeste
Clear, clean graphics and a mysterious setting make this ghost game intriguing and addictive. It's fairly easy to play, meaning it's not highly stressful, the clues are very helpful and as I said, it's easy on the eyes. You don't waste time trying to figure out what's going on, like you do with other games, so you get to spend more time actually finding the clues and solving the mystery. It's high-production, ghost fun!
It kind of reminds me of the Queen Mary, except it takes place near the Statue of Liberty, which is evident in the opening scene. But you are on a ship and that ship is mysteriously haunted. You really don't get the background of the whole thing, but Mary Morehouse (you) is really working through her fears and keeps a journal of her activities as "fear therapy."
Check this out, you can play for an hour for free, and should you decide to buy, your purchase goes to help support this site.
---
Blood Ties - Help private detective Vicki Nelson solve a series of unexplained missing persons cases. Vicki thinks so, and its up to you to help her, along with her friend Henry (a 450-year-old vampire) and assistant Coreen, to investigate the crime scenes and solve the mystery! Unearth hundreds of items in beautiful and unique locations throughout the city to discover the dark secrets behind this mysterious cabal.
---
G.H.O.S.T. Hunters: The Haunting of Majesty Manor - Just about everyone who visits this site and loves ghost games is going to love the fact that this game is an actual paranormal investigation and you play the role of the investigator.
You are hired by a paranormal agency and sent on a mission to discover what is haunting Majesty Manor. It's slower than Haunted Hotel and there were fewer interesting features, but it's still addictive, nonetheless. You gain clues to who's haunting the house and being to learn about the spirits within, one by one. When you need a hint, you use an actual EMF detector to zero in on the spot. It's quite clever.
If you're into paranormal investigation and want to play around in a virtual world, you can play for free and forget about life for a while. Which is what it's all about!
---
Ghost in the Sheet - Welcome to the afterlife! It`s nothing like you`ve expected. Ghost in the Sheet is a comedy adventure ghost games of supernatural proportions. Become a ghost and master your new paranormal skill set to unravel the secrets of your life-after-death adventure! Mystery, intrigue, comedy and adventure await; aren`t you just dying to play?
---
Nancy Drew: Ghost Dogs of Moon Lake - As Nancy Drew, track the history of Mike Malone, a notorious gangster who once lived in a lakeside cabin. Trail a mysterious pack of dogs rumored to have risen from the dead to protect their master`s secrets. Decipher cryptic puzzles and dodge danger in this immersive Adventure mystery. You`ll meet a variety of fascinating characters, all with something to hide. Can you unravel the secrets and expose the truth in Nancy Drew: Ghost Dogs of Moon Lake?
---
Nancy Drew: The Haunting of Castle Malloy - Mystery is afoot at Castle Malloy! A groom has disappeared and the townsfolk are whispering of a malevolent banshee! Are ghosts to blame, or is it merely a case of cold feet? Immerse yourself in the haunted legend of the Emerald Isle, gathering clues and information from the terror-stricken wedding guests. It's up to you and Nancy Drew to unravel the mystery in this chilling adventure game.
---
Nancy Drew: The Phantom of Venice - Beyond the bright piazzas and open markets of the Venice Carnevale lurks a masked thief. Despite months of investigations, the Italian police remain helpless as stolen treasures vanish in the night. The authorities have asked you, as detective Nancy Drew, to join the case and infiltrate a dangerous crime syndicate. Can you catch the phantom thief before he or she destroys the heart of Venezia? Find out in the Adventure of Nancy Drew: The Phantom of Venice.
---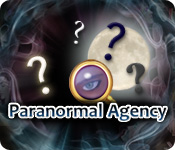 Paranormal Agency - You're the owner of a paranormal investigation service, hired to rid the city of nasty, spirits with evil intentions! Your own past experiences with the paranormal have left you with elevated senses and the ability to perceive spirits that others cannot. You investigate numerous places around the city, encountering evil spirits who want nothing better than to stop you in your tracks. Enjoy this colorful, light game next time you're home alone. You can play in timed mode (for those who love adrenaline) or untimed, if you're like me and just like to relax and solve puzzles.
---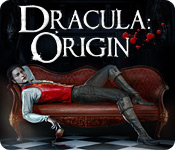 Dracula Origin - Play as the vampire slayer Professor Van Helsing, hot on the trail of the diabolical Count in this thrilling Large File Adventure! The ruthless Dracula is searching for an ancient, eldritch ritual to return damned souls to the earth. As the eminent Professor Van Helsing it`s up to you to stop him before his evil machinations are realized! Sharpen your stakes and dive into the terrifying depths of Dracula Origin today.
---
Dracula 3: The Path of the Dragon - Father Arno has been sent to Vladoviste in Transylvania, a small town still recuperating from battle after the First World War. He?s on a mission from the Vatican to investigate the life of a deceased woman reputed to be a saint. As night falls and the last train pulls away, something evil lurks across the graves of fallen soldiers, and Father Arno?s nightmarish visions are becoming all too real. Warning: Dracula 3: The Path of the Dragon contains some mature content and mentioning of the occult.
---