The Ghost That Followed Me Home
by Nichole N
(Lane County, Oregon, USA)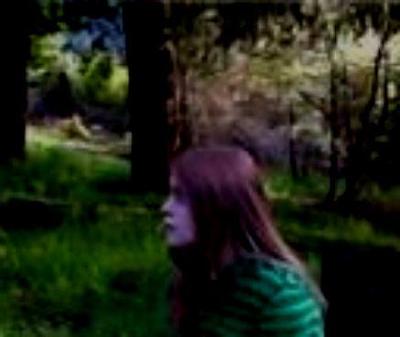 As a lead cadet of Emerald Valley Paranormal, have witnessed my fair share of the paranormal. However, I have not once had something attracted to me like she was. I don't know how, or why she followed me home. I don't even know what I did to make her want to follow me, but I ended up getting her anyway :) This picture is almost 3 years old, but the face is still clear. I'm probably boring whoever is reading this, so I'll get onto the story of this investigation and the encounter of my little ghostly roommate.
We mostly do cadet investigations in cemeteries, and as kids of the paranormal we like to have some fun. I sat on a tombstone so my mother could take a picture of me, and mind you she took this with her blackberry phone. Anywho, we were there quite some time, even past dark. This was the kind of cemetery where you feel followed everywhere you go, even if you're running. We did several EVP sessions and group huddle sessions. At one of these, I was standing by myself with no one behind me. We were talking about how none of us felt like there was anything there & I quickly regretted feeling that way. The hood of my sweatshirt was yanked off my head, and I was pulled backwards almost landing on my butt. I got up and turned around because heads were going to roll and when nothing was behind me, and everyone had seen me get assaulted by thin air, I jumped at my Aunt like Scooby-Doo. I was scared beyond. Never in my life had I been attacked like that.
After that happened, I began to feel like wherever I went, I heard and felt footsteps behind me. When we left, I swore we accidentally brought a piece of the cemetery with us. Like someone wanted to get their point across that we were in sheer denial if we left that place with doubt. I started really noticing her in holiday pictures. Christmas and Easter especially. Huge orbs appeared in pictures. And I've had shadows come right up next to me, and disappear when I look at them.
She talks to me, and when I'm sitting alone in the living room, I can hear her whispering. She likes to do little things to make our spines tingle. Opening the bathroom door in my mom's room. Running her fingers down our backs and slapping us in the butts. She isn't bad or in any way trying to harm us. She just wants you to know she's here. :)