Screaming Ghost Protruding from the Tree?
by GrayReb
(Wilmington, DE, USA)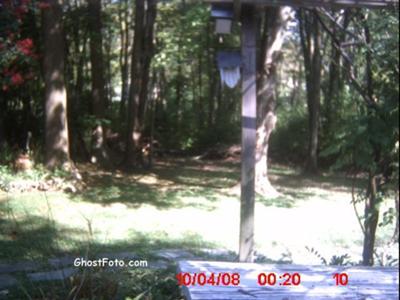 Ghostly Spectre in the Tree
I once submitted this photo to GhostFoto.com as you can see by the stamp. No story to go with this it, just the photo as evidence of "something" extremely strange and/or paranormal.
Since I didn't actually see the image beforehand or take the picture, I can't provide details other than to say the weather was clear and dry on a sunny day in October, 2008. The motion-activated camera detected "something" and snapped the shot.
The ghostly spectre appears to be screaming with his jaw open wide as it's coming out of the tree and you can see his upper torso and right arm. I can assure you this is NOT a Halloween prank, nor was it edited.
If you look more closely on the extreme left side of the pic, you see what appears to be a woman's face on a tree close to the ground, but that could be the result of matrixing.
Brenda, I believe I submitted this photo before but it never showed up in the gallery, so I resubmit to you for comments.