Jenny Wade House Apparition?
by Chad
(NN, VA)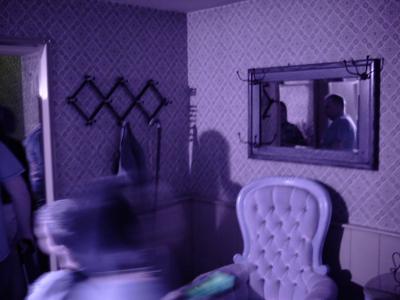 I had visited the Jenny Wade House earlier this month (Jul 09). While there as an avid investigator, I decided to bring my IR camera which was set on burst or three shots in a row.
Not much was really happening while there, although did see some chains moving pretty rapidly.
My son was with us checking this place out as you see him in the submitted pic. This was the first of the three pics with the third full of motion and unable to be made out. The second was a normal shot nothing noted as with the first as you see.
This pic from what I see is facing the rear of a woman in period style dress. It appears to have her hand(s) on my son's shoulder(s). He stated after the tour and prior to loading the pics that he felt the light touch of a hand with an icy, tingly feeling.
Let me know what you think!!