Ghostly Pictures: Yorktown, VA Grace Episcopal Church
by Tiffany Evans
(Chesapeake, VA, USA)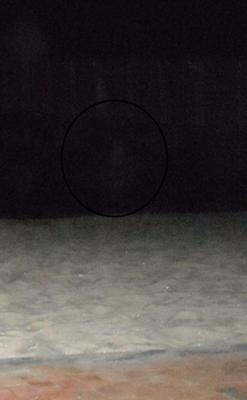 Yorktown, VA pier-near Grace Episcopal Church and Yorktown battlefields
This picture was taken on Sunday(10/10/10)/Monday(10/11/10) between 11pm and 1 o'clock in the morning in Yorktown, VA by the water/pier across from the Grace Episcopal Church. I am not exactly sure the time as I honestly did not keep track, am not on a team, and was hoping not to find anything I guess. I am not sure if everything will be visible on this picture so I may zoom in on the picture and post it that way as well. Okay so for the only story I can give you.
My friend James and I decided to check out Crawford rd and since we were in the Yorktown area we also agreed to check out a few other places such as the Grace Episcopal Church and battlegrounds. While I enjoy hearing stories and looking at other photos and videos, I do get a little spooked sometimes and it was very dark the other night when we went so I rolled down my window a little bit on the passenger side and was snapping pictures as we drove slowly (in all locations we visited I did this).
Well we went to see the Grace Episcopal Church and it was dark so we could not see the cemetery there if it was the part that had the brick wall all the way around, so we tried to go down the other street after the one way Rd.
When we met the end of that road where the water was, we proceeded on until we saw the church again on the left. I was steadily snapping pictures with my digital out of the right side. I did not see anything at the time where the water and the pier were and didn't think it was of significance because I have not heard stories, read anything or seen anything about it. I almost deleted this picture thinking the orbs to the left of it could have been from the water or mist.
But it was not windy and I knew if I didn't at least check it a little more that it would bother me not knowing. So I looked and I discovered what looks to be an apparition hanging from the pier. I am not sure how old the pier is or if anything has happened but this is what I found.
I have quite a few pictures at other locations throughout Yorktown with orbs and some which look to be a little more than orbs as if they may be taking shape or something I am not sure how to describe it. I will post them too.