Ghost Tours Picture: The Woman in the Window
by Lindsay
(Lady Lake, FL, US)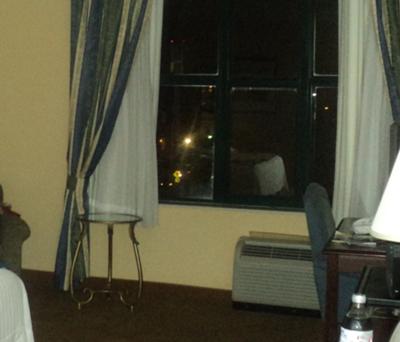 The woman's silhouette is pretty clear in the left section of the window.
My mom and I were on a mini-vacation in Savannah, Georgia on August 21, 2010 and only stayed for one night. We stayed at the Marriott Courtyard in the historic district. We took a ghost tour that night. On the tour, our tour guide asked us where we were staying. Once we told her she looked shocked and told us that the hotel site had once been a Catholic church including burial grounds. I'm not sure if her info is valid, but shaken up upon our arrival to our hotel I decided to take a picture of our room on the 4th floor...just to be "safe".
If you look into the window to the very left section, you see a woman with her hands to her face almost as if she was gasping. Before taking this, my mom and I stood at an angle in the room where it would be impossible that IF we got something in the picture, it couldn't be us.
For some reason we decided to stay, maybe for the thrill...I'm not so sure now that I think back! At around 1:30 in the morning when I let my guard down,my eyes were closed and I was seconds away from a peaceful sleep when I felt some pressure brush against my right leg. My mom was about two feet away from me in a deep sleep turned over on her side, it was then that I was positive we were not alone. Lets just say after that I didn't sleep until around 8 that morning!