Ghost in the Window
by Mary Ellen S.
(Downingtown, PA)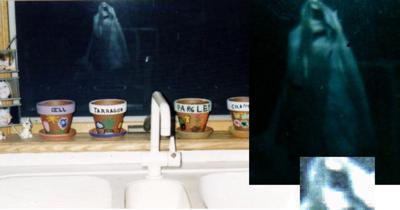 There are 3 pictures here combined in one - the original, then the "ghost" enlarged on the right, and under that the "face".
I swear to you I have done nothing to this photo to retouch it. All I have done was edit it with contrast and sharpness. I have shown this to a lot of people and no one can give me a logical explanation. I promise I am sane and normal - just a 42 year old stay at home mom that is amazed by this photo!
A couple of years ago I got some old real 35mm film developed that had been sitting around for a few years. This picture jumped out at me! None of the other pics had anything like this on them. This was at my mother's house, on her birthday. I was taking pictures of the clay pots on her shelf that my kids painted for her birthday. There was nothing behind me that could have caused this reflection. No dish towels, no coat racks, no people...my mom keeps a very simple house without a lot of stuff. And I don't wear robes or dresses...or hoods, lol. Does not look like my reflection at ALL.
The window behind the sink looks out onto their deck. You can faintly see the deck rails in the background. But there was also nothing outside that could have made this.
My parents don't live in an old house. But there have been noises, and my mother and I have both, on separate occasions, seen "shadow people" in our peripheral vision.
The strangest thing is that when I enlarged the photo, inside the space where the head would be is a little face. I couldn't believe it when I saw it. I included an enlarged pic here to see if you see the same thing.