Ghost Faces in Old English Pub Staff Flat
by Nathan
(Rochester, Kent, Great Britain)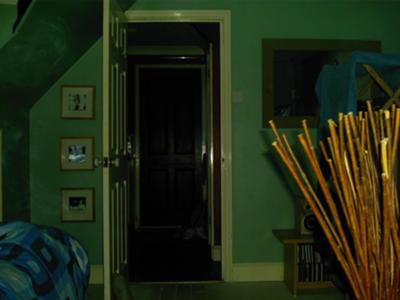 Ghost Faces
I used to work as a manager in an old English pub in Kent and a small studio flat above the pub came with the job.
All sorts of things used to happen at night mostly which would wake me up. The window latches used to undo themselves, the doorbell used to chime when no one was at the door resulting in me removing the batteries. Items used to go missing.
One summer I used to have two fans running to keep me cool during the night. One morning I woke up and they were both not running, but still in the 'on' position and never worked again. So I decided to take a few pics with a digital camera every time I was woken during the night. Apart from getting loads of orbs there is one pic that stands out. If you look to the left side of this pic you can see a large face at the top with similar small faces running down the side.
I did find out the old manager moved out of the flat due to seeing an angel-like ghost one night.
I no longer live there.
---------------------
These are the other pics I took a few seconds before I caught the ghost faces in my first uploaded pic: