Ghost Birthday Party Crashers
by Curtis Williams
(Dallas, Texas. USA.)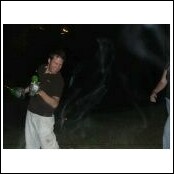 Party Crasher
This picture was taken with a digital camera by my 14 year old daughter at my brother's 27th birthday on May 31st 2009. She was trying to capture my brother's wife kicking her brother.
It was around midnight or so on a fairly breezy night because of approaching storms. Several pictures before this one had orbs in them but I shrugged them off due to the fact that the wind could have stirred up dust in the area. If you can see there are actually 3 figures in the picture (large one in the center, one really close to the camera and one in front of her brother) but the large one in the middle is the one who got her attention.
She noticed it right after she had taken the pic and called me over to see it. I told her to take a few shots really quickly to see if she could capture anything else and they came back empty.
Sorry the pic is fairly small but you can clearly see the images matching the form of her brother bending away from the previous kick. This is not our first encounter with ghost pics.
We have had experiences pretty much my whole life and have come to accept that we are surrounded by them daily and learn to deal with the noises and feelings that accompany them.
Hope you enjoy it was really a great find on her part.