Ghost at Eastern State Penitentiary
by Xiomara
(New Jersey, USA)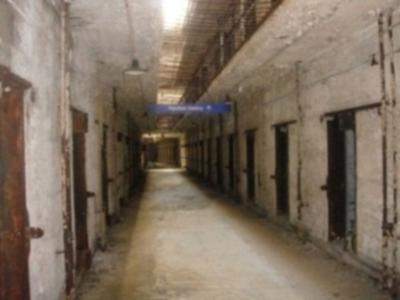 Eastern State Black Shadow
Hello,
I send you another picture I thought you guys could be interested in. Look to the right, towards the end of the hall past the stairs. It looks like a black shadow opening a cell door. The stair area looks kind of weird also, towards the bottom of the stairs, but what really caught our eye was that black shadow at the end of the hall on the right. We clearly made out a black shadow opening a cell door. We also seen faces in the beginning on the right. Maybe it's our 20/ 20 vision, we were able to spot a lot wrong with this picture also.
This cell block had a sign up front by were we took the picture about a lot of paranormal investigations being held there. It was blocked off for us, I imagine that if you rent the place out for a night they allow you to go there. I will tell you this, those people have balls of steel to be there at night!
If you zoom in real good you can see it. Please tell me what you think.