Edward Jenner Museum
by Daniel
(Brownsville, TX, US)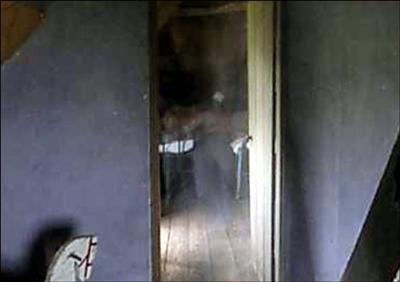 The ghostly image appeared in an attic doorway in the museum
I recently came upon a story at the BBC News Website and decided to share.
Mystery figure shocks cameraman
BBC journalist Chris Sandys has said he is at a loss to explain a mystery apparition that appeared on a photo.
Mr Sandys, 30, was photographing at the reputedly haunted Edward Jenner Museum in Berkeley, Gloucestershire, and captured the image on his camera.
"It was a bizarre formation of light showing a mystery figure in a doorway," he said. "I am sure it was not caused by sunlight or dust in the air.
"I checked again and looked in the doorway but I could see nothing."
He went on: "As a BBC employee I wouldn't dare doctor an image or I would lose my job."
Mr Sandys, who works for BBC Gloucestershire's website, was photographing in an attic never before opened to the public.
Museum director Sarah Parker said: "We are truly flabbergasted by the image.
"We have graffiti from soldiers previously billeted in the attic rooms from the 19th and 20th Century and perhaps this is one of them or even one of Jenner's servants.
"We have always thought of the 'ghosts' as being metaphoric, but maybe we need to think again."
The museum is dedicated to Dr Jenner, who lived in the house from 1785-1823.
It was from the Grade II listed building that he pioneered his world-changing vaccination against smallpox.
Why do some spirits haunt?