Branson Ghost
by Sarah
(Missouri)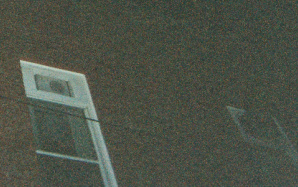 My family took one of the ghost tours in Branson, Missouri. It was our first ghost tour and an exciting and chilling experience. We ended up getting a disposable camera, so many pictures weren't that great. However, I have been ghost hunting for about a year and this picture is still one of my best ones. This picture was taken in an alley at about 9:30 P.M. We learned from our tour guide that there was once a man and a woman who lived in the apartment and that they never got along very well. One day, the woman and the man got into an argument in which he threatened their daughter. In the desperate attempt to get the child back, the baby was dropped on her head and she died instantly. The wife then killed her husband in a rage and committed suicide by jumping out of the window.
If you look at the very last window at the right, you can see the top of the window is cut off and there's a black shadow-like figure leaning out of the window. You can see it better close up. Also note that that apartment has been empty for quite some time.
Learn about hauntings in Missouri here.